Thank you for subscribing!
Your privacy is important to us. We will never sell, rent or give away your email address.
To protect your privacy and to ensure you are the one who requested the information … You must

confirm your subscription

request.
Confirm Now to receive a special Surprise Bonus.
Verify…
Go to your email and
Open your email from … Cindy Holbrook
With the subject line … Please confirm your request for information.
Click on the confirmation link …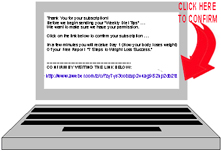 Within minutes of receiving your confirmation you will receive the First Step to Reclaim Your Life After Divorce