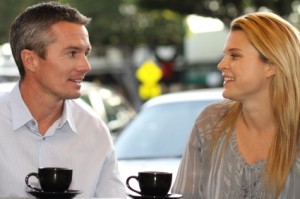 Most divorced women will decide to date again. Dating after divorce needs to be your personal decision, for the right reasons. Date when you are ready and not because other people fix you up or tell you that it is time to start dating.
Dating after divorce can be for a variety of reasons, including to find a new relationship or just to have fun and meet new people.  For dating after divorce to be successful, you need to have healed over the loss of your marriage and know who you are and what you want.
Here are 5 Tips for Dating after Divorce
1. Identify the Type of Men You Want to Date
Even if you are dating just for fun, to meet different types of men and experience new adventures, you want to be clear on the type of man you want to attract. There is always a possibility that a date will turn into a long-term relationship. Write a list of the characteristics and qualities of your perfect man. Complete another list stating things that are totally unacceptable to you. Review this list before your first date. If he does not fit the bill, do not make a second date. Bottom line, know what type of man you want and do not settle for less.
2. Meet in a Public Place
Regardless where you met this man, online or off, your first date should ideally be in the morning, be for a short period of time and in a public place. Stay safe! Dating after divorce is a completely different game than dating was ten years ago. Do not have him pick you up at your home. Meet for coffee or go for a walk in a public place. ALWAYS tell a friend where you will be, how long you will be there and all of the identifying information you have on your date. Determine a time limit for your date and let him know that you have other plans and will need to leave in an hour or two. You could even have your friend call you at the designated time. If the date went well, schedule a more intimate second date.
3. Conversation
Keep the conversation about who the two of you are. Let him know who you are. Share your dreams, aspirations and beliefs. Tell him about funny stuff that has happened to you or about challenges you overcame. Resist the temptation to bash your ex or to talk about sex. Ask him questions about himself. You can ask the same question a couple of times in a variety of ways to see if you get the same answer. Listen to him and watch his body language.
4. Red Flags
Keep an eye out for RED FLAGS. Do not ignore them. If something – or someone – seems too good to be true, it usually is not. Trust your instincts; they will never lead you wrong.  Remember that you cannot change another person. You have your list of what you will not accept. If your date has any of these characteristics – RUN. Be honest with yourself and with others.
5. Protect Your Privacy
Most of your dates will be strangers. Keep your personal information private until you feel safe with him. Do not give out your home or work address or any information about your children, such as their names and where they go to school.
Remember you are a strong beautiful woman and you hold the playbook to your life and to dating after divorce!
Be safe and have fun!