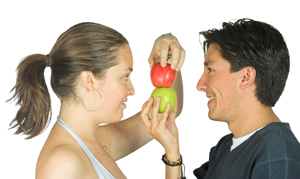 An emotional affair is an intimate connection between a man and a woman, where there is no sex involved. If one of them is in a relationship, they rationalize that they are not cheating, or doing anything wrong because there is no physical contact. They believe that they are just friends and cannot (or refuse) to see how much their friendship hurts others. I understand the betrayal as my husband had an emotional affair.
Being betrayed by your spouse or significant other due to an emotional affair can be just as traumatic as a sexual affair, if not more. Many people may engage in a physical affair, without any emotions what so ever. It's the emotional investment and the nature of the communication that two people have in an emotional affair that causes marriages to be ripped to shreds even though the relationship never becomes physical.
The internet has complicated the emotional affair even more. The cheater honestly cannot see any harm in spending hours chatting with someone thousands of miles away. What may start out as an innocent friendship deepens as the two begin innocently flirting. Next thing you know, they are emailing one another very personal and intimate information. Their relationship has blossomed into an emotional affair.
If a person, loves their spouse, they should take notice when the green-eyed monster begins to appear. Most people are not jealous for no reason. They get jealous because they feel their love relationship is being threatened.
Signs of an Emotional Affair
Intimate conversations that are usually kept between spouses
Putting friend's needs and desires before you spouses
Feel like your friend understands you more than your spouse
You prefer to spend more time with your friend than your spouse
Fantasying about your friend
Willing to lie or keep your relationship a secret
Discussing sexual fantasies, likes and dislikes with one another
Are touchy-feely with your friend, but are careful not to touch certain places
Always want to look your best when you see your friend
Emotional affairs hurt. Many marriages are destroyed by them. Most churches do not recognize an emotional affair as grounds for divorce which can cause more confusion and heartache for the spouse who has been betrayed.
Can a marriage survive an emotional affair? Sure they can, if both parties are committed to making their marriage work and are willing to put their spouse's needs and desires above all others. If a person feels that their needs are being met, they are less likely to look elsewhere to feel as if they are loved, supported and that they matter.
Share your thoughts about an emotional affair with us. Do you believe it's an end all for a marriage? Did an emotional affair have anything at all to do with your divorce?